May Special Offer – AQ Advanced Hair Complex+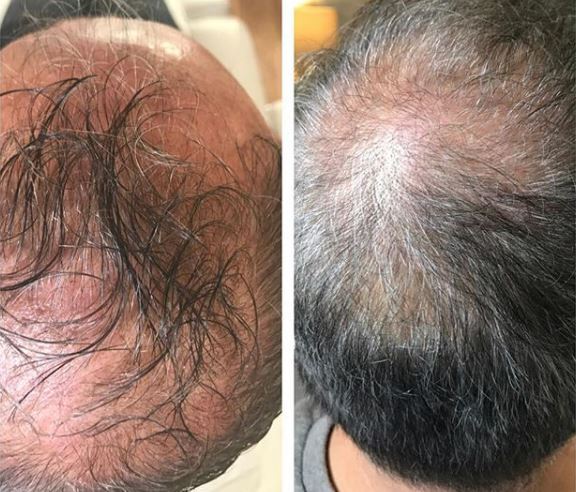 Mayday, mayday, mayday! The final month of spring is upon us and Father's Day (the 17 June in case you were wondering) is just around the corner, but there's no reason to panic – our May offer could make the perfect gift.
To celebrate the launch of our brand-new treatment for pattern baldness and thinning hair, we are offering a 5-week course of the fantastic AQ Advanced Hair Complex+ and Carboxytherapy for only £500 – that's less than half price.
As this is such a very special offer, it is limited to just two people and is on a first come first served basis.
Hair Loss in Men and Women
The Goldsmith Clinic is delighted to introduce AQ Skin Solution's Advanced Hair Complex+ to Chesterfield. It is proven to restore and promote hair growth in both women and men – according to an NHS study, pattern baldness affects almost 50% of men by the age of 50 due to the hair follicles in the scalp becoming more sensitive to male sex hormones called androgens whereas female pattern baldness, also called androgenetic alopecia, tends to strike later in life. NHS England estimates that around 50% of women over the age of 65 experience female pattern baldness.
A degree of hair loss will affect almost all men in their later life but male pattern baldness can be identified by a distinct 'M' shape of hair loss where baldness occurs first on the temples and crown of the head, eventually resulting in a 'horseshoe' shape. The AQ Advanced Hair Complex+ renews ageing hair follicles by supplying them with Human Fibroblast – the patented 'Growth Factor' technology which nourishes the cells lining the hair follicles and scalp, helping them to return to full health and retain hair.
AQ Advanced Treatment with Carboxytherapy
The AQ Advanced Hair Complex+ has shown to provide incredible results as a stand-alone treatment when administered with the DermaStamp to deliver the ingredients directly below the epidermis (the first layer of skin). However, to maximise the benefits of this treatment, our May offer includes three sessions of Carboxytherapy – which alone has also been shown to provide excellent results in treating hair loss; increasing blood flow and cell regeneration in the area.
During treatment, the serum is applied to the problem areas of the scalp and then 'pressed' into the scalp using a DermaStamp. This delivers the serum below the epidermis whilst also creating 'micro-wounds' in a similar fashion to Skin needling – activating the skin's natural healing response.
When combined with Carboxytherapy we are giving the serum an added boost, further increasing the chance of success.
To determine whether you are suitable for the new AQ Advanced Hair Complex+ and to take advantage of this very special offer, contact Theresa today on 01246 277750.