Theresa's Top Tips For Skincare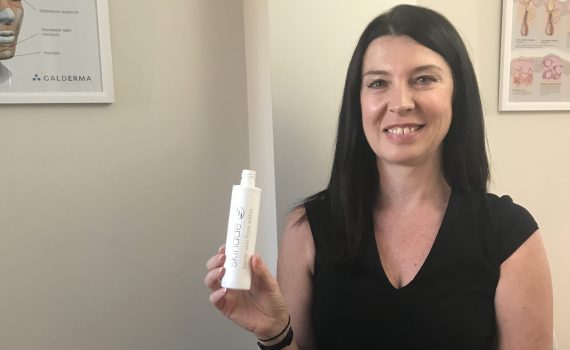 Your skin is your body's largest organ. It is a protective barrier, it helps to regulate your body temperature and is a filter. It's also constantly regenerating, at different speeds throughout life, and deserves a lot of TLC.
Some skincare tips may seem like common sense, but are very often overlooked. Others may seem crazy… But here are my top tips.
Remember Sunscreen
Remembering to use sunscreen is one of those tips that may fall into the common sense category, but it cannot be stressed enough. Aside from protecting you from harmful UV rays, wearing sunscreen helps to prevent age spots. Essential skin proteins (i.e. keratin, collagen, elastic) are protected by sunscreen, which means that by protecting your skin from the sun, you're also doing yourself a favour in the realm of anti-ageing.
I recommend iS Clinical and ZO Skin Health sunscreens, which are both available from The Goldsmith Clinic – opt for SPF 30 or higher, and be sure to reapply regularly.
Clean your Brushes!
Lots of us are guilty of this beauty sin. Make up brushes are a breeding ground for bacteria, so it's vital that they're regularly washed. For any brushes used for 'wet' makeup, i.e. foundation brushes and beauty blenders, you should be washing these weekly. Anything for dry products, fortnightly. What you put on your face is important, what you put it on with shouldn't be overlooked either. Wash with whatever you'd ordinarily wash your face with, and be sure to allow them to thoroughly air dry before packing them back away.
Hydrate, Hydrate, Hydrate
Drinking water is important but it's also important to ensure your skincare regime is also delivering the hydration your skin needs. Products with hydrating formulas (such as iS Clinical and ZO Skin Health products) are very important, particularly if you suffer with dry skin. Also remember that skincare is not restricted to your face – all of your skin needs hydrating, and hands are often said to be the easiest way to tell a person's age. Avoiding dehydrating substances will make a massive difference too – caffeine and alcohol will do your skin no favours, particularly if consumed in excess.
Pertinent Products
Skincare is not one size fits all. Everybody's skin is different, and there is a product for everybody. Consulting with a registered professional can save you time and money the long run as they will analyse your skin and determine the right products specifically for your needs.
You Are What You Eat
Your diet plays a huge part in how your skin looks and feels. Vitamin C has proven antioxidant properties that promote firmer feeling skin, and can brighten and even skin tone. Vitamin C rich foods include citrus (particularly oranges and grapefruit) and green veg (especially kale, brussels and broccoli). Omega-3 isn't just brain food either – it's great for the skin. The fatty acids can help to reduce the body's production of inflammatory compounds, improve cells abilities to hold onto water, and improve overall texture and quality of skin. Omega-3 rich foods include flax seeds, walnuts, and fish. But it's not just a case of eating your vitamins and nutrients – look out for products that contain them too.
The revolutionary Skinaid Vitamin and Mineral Drink has been shown to have excellent effects on skin health. This multi award winning formulation combines six powerful active ingredients working harmoniously to reach the skin at a cellular level to promote healthy skin function. Learn more about it here. Try it yourself for 30 days and see the difference it makes.
From the Inside Out
Alongside a mindful diet, there are beauty products that can help to boost your skin from the inside, out. Embracing the same modern, holistic approach to beauty as The Goldsmith Clinic is Skinade, a collagen drink that increases skin hydration, smoothness, and suppleness, prevents the formation of deep wrinkles, and also improves the look of hair and nails. It's multi award-winning, naturally flavoured and comes ready-to-drink. More information here.
Catch Some Zzz'z
– But not too many. Under or over sleeping can affect your skin massively. Most healthcare professionals advise that seven to eight hours sleep is optimal, anything more or less on a regular basis can negatively affect many aspects of your health, i.e. skin, mental and physical well-being, and even your immune system. So make sure to get your head down (preferably on silk pillows – these prevent the formation of deep lines whilst you sleep), but remember to set that alarm too.
Indulge Yourself
When you realise that you have that important event coming up, or that pivotal business meeting, don't forget that alongside that killer outfit, your skin can be indulged too. A treatment with no downtime such as a iS Clinical Fire + Ice facial, is the perfect bridge between a mild facial and an invasive peel that can really rejuvenate your skin, giving you the glow and confidence to really rock the occasion.
Just as you may treat your hair to a conditioning mask every once in a while, why not boost your skin on occasion. Alongside your skincare regime, the odd indulgence can not only make your skin look extra fabulous, but also boost your mood and confidence. Go on, treat yourself!
For a free skin consultation, please book your appointment today here.