March Special Offer – iS Clincial Fire + Ice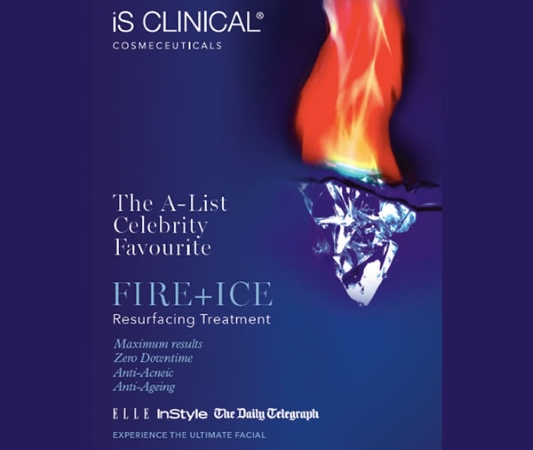 March means spring – the season of transformations. Aside from the weather, it's also an opportunity for us to transform ourselves too.
The extremes of temperature – snow and ice outside to central heating indoors – may have taken their toll on your skin, leaving it dull and lifeless. Now is the time to get your skin spring and summer ready. Slough away the dry patches, get the circulation going and rediscover your glow. IS Clinical's Fire + Ice treatment is the very thing to do just that. It's also a fantastic treatment for an upcoming special occasion like a wedding, ball or an awards event
The Fire + Ice facial is the secret weapon of some of Hollywood's top names, from Halle Berry to Rosie Huntington-Whiteley and the UK's own Michelle Keegan, who all use it before hitting the red carpet.
It's a two-step treatment that uses a combination of two masks; a powerful intensive resurfacing mask (containing Glycolic Acid, Vitamin A and Vitamin B3) the fire element ! This is then followed by a rejuvenating mask (containing antioxidants, Hyaluronic Acid, and soothing aloe vera and rosemary extract) – the ice! It takes just 30 minutes and is great for combating acne and rosacea.
In March The Goldsmith Clinic is offering six iS Clinical Fire + Ice facials for the price of six – a saving of £89.00. It's the perfect package to help you get skin ready for that special event.
As with all treatments at The Goldsmith Clinic, they are performed by Theresa herself, a registered nurse practitioner.
Get in touch today to book your iS Clinical Fire + Ice treatments